CONGRESS VENUE
Crowne Plaza Barcelona Fira Center
Av. Rius i Taulet, 1-3 | E-08004 Barcelona | Spain
LANGUAGE
The official language of CiLR 2019 is English.
CLOTHING
During the entire meeting, attire will be informal.
CLIMATE
The Mediterranean climate is in full swing in June, which means you can expect high temperatures, plenty of sunshine and clear blue skies for most of the month. Barcelona sits on an elevated plateau on Spain's northeast coast. Its position leaves it open to cooling winds from the Atlantic, which can lower temperatures and make the weather much colder at night. Temperatures range from 16°C to daily highs of 24°C. Rain is very rare and Barcelona weather in June is mostly warm, dry and sunny.
VISA REQUIREMENT AND LETTER OF INVITATION
Ensure that your documents are correct and complete before you commence your journey. Delegates must register for the event before applying for a VISA. Once you have registered for the meeting please contact the CILR19 Organizing Secretariat in order to obtain a letter of invitation. It is understood that such an invitation is intended to help delegates to raise funds or to obtain a Visa and does not imply a commitment from the Congress Organizers to provide any financial support or scheduling of presentations.
For more information on VISA requirements, please visit the website of the Ministry of Foreign Affairs of Spain and the website of the Spanish Visa Application. Please keep in mind that a visa application may take some time to be processed. Apply for the visa early on to ensure its approval before the congress begins.
Check with your local embassy what sort of documents are necessary in your specific case, as this may differ between delegates from the same country.
LIABILITY
CiLR 2019 Secretariat and Organisers cannot accept liability for personal accidents or loss of or damage to private property of participants and accompanying persons. Participants are advised to take out their own personal travel and health insurance for their trip.
ELECTRICITY
Barcelona, like most other European countries, has 230-volt AC, 50Hz current and uses two-pin continental plugs. Visitors from the Swiss, UK and Ireland will need a plug adaptor for electric appliances, while those from North America need a power converter to use 110/125V appliances.
EMERGENCY AND FIRST AID
In case of emergencies, contact a security guard or call the following numbers:
Ambulance (ambulancía) and health emergencies: 061 or 112
Fire brigade (cuerpo de bomberos): 080 or 112
National Spanish police (policía nacional): 091
SOCIAL MEDIA
We are using social media at the congress to encourage an open discussion on urology science and experiences at the congress. CILR congress speakers, opinion leaders, delegates and media share their ideas, commentary and photos on Facebook and Twitter. You can follow CILR on Facebook via www.facebook.com/challengesinlaparoscopy and on Twitter via @CILR19. Use #CILR19 to discuss the Congress, and join the conversation!
SCIENTIFIC SECRETARIAT
Vincenzo Pansadoro Foundation
Via Aurelia 559, Rome 00165, Italy
Tel +39-06-66418008
Fax+39-06-6630771
info@fondazionevincenzopansadoro.com
www.fondazionevincenzopansadoro.com
MEETING PLANNER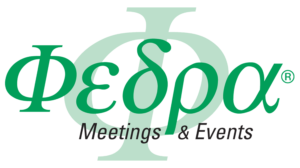 Fedra Congressi
Viale dei SS. Pietro e Paolo 21,
Rome 00144, Italy
Tel +39-06-52247328 – Fax+39-06-5205625
Email: info@fedracongressi.com
Web site: www.fedracongressi.com